OptiMind is a veteran among nootropics, being one of the earliest supplements for enhancing mental performance.
Enjoying customer loyalty from its earliest days, the company works with the mission of providing a clean and competent formula to its users.
So how does it hold up against other similar products in the market today? Let's find out in this comprehensive OptiMind review.
Best deal
OptiMind isn't the optimal product when looking for brain boosts. Thankfully, other options do what it was initially made to achieve.
| | |
| --- | --- |
| Ingredients | |
| Effectiveness | |
| Safety | |
| Price | |
Contents
What is Alternascript OptiMind?
OptiMind is a brain supplement that Alternascript launched in 2014. It is one of the earliest nootropic supplements in the market that gained immense attention initially.
At the time, it met all the standard nootropic claims of improving memory, boosting energy, and enhancing cognition, but a lot has changed in the nootropics industry since then.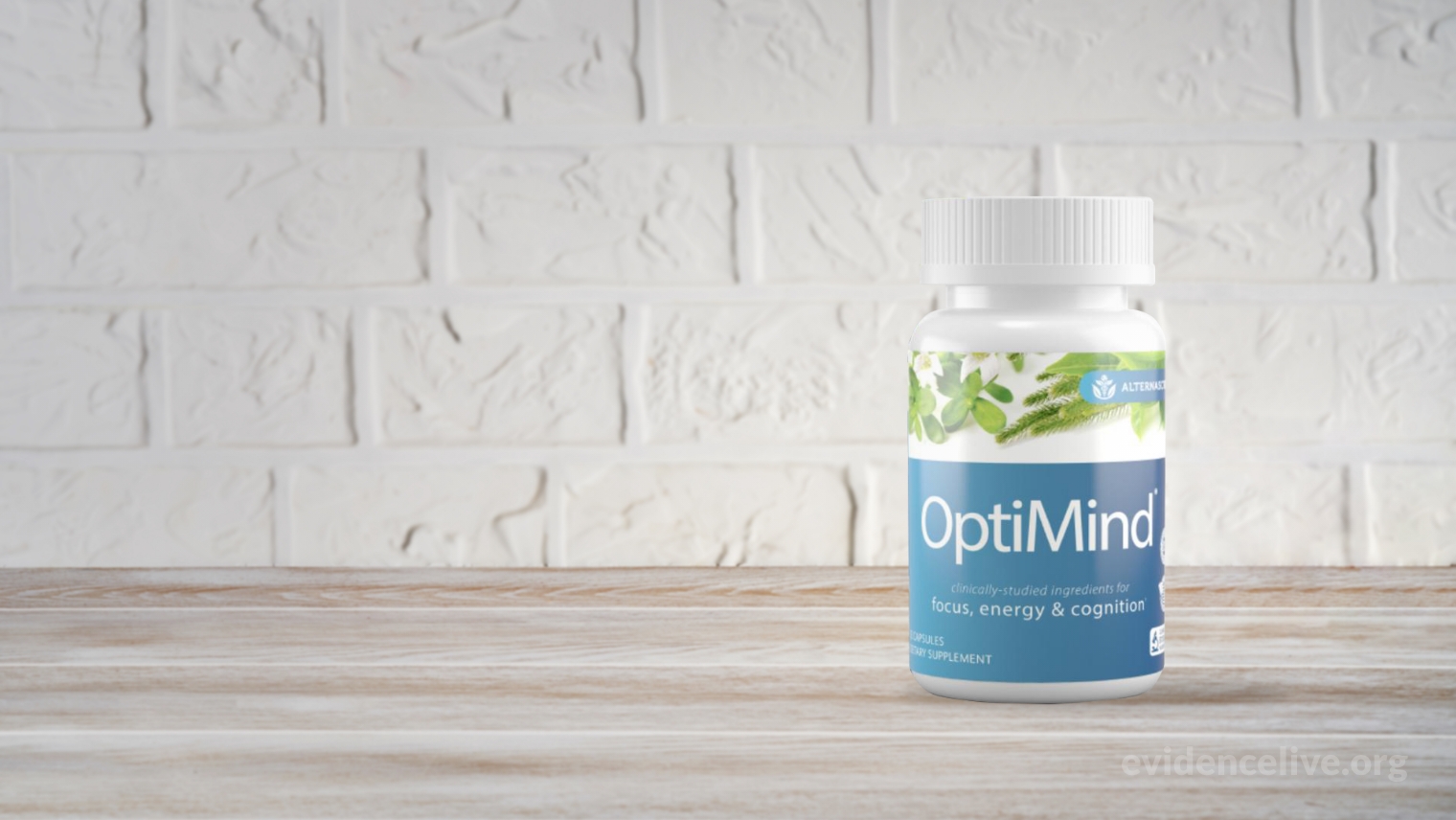 To keep up with changing trends, the company has since revised its formula, omitting some of the initial nutrients and replacing them with others.
To gauge whether these changes benefit the formula or not, this OptiMind review will attempt to see if all the claims meet the hype.
At A Glance

| | |
| --- | --- |
| Product | OptiMind |
| Manufacturer | Alternascript |
| Type | Nootropic |
| Form | Capsules |
| Content | 32 capsules |
| Dosage | 2 capsules daily |
| Price | $29.95 |
| Price per serving | $1.87 |
How Does OptiMind Work?
Many ingredients contained in OptiMind boast some degree of scientific research to back their claims. However, the biggest problem lies not with the choice of ingredients but with listing them as part of proprietary blends.
The company neglects to mention the individual amount in serving sizes, which is the expected norm today.
Products with proprietary blends are a major red flag in any supplement pill.
We have our reservations when manufacturers choose not to be transparent about their products. To us, this feels like the perfect way to include filler ingredients without having to specify so.
Another concern is that the product may well be spiking with stimulants, and no one would ever know otherwise.
Although there are some true winners in the Focus Blend ingredients, such as bacopa monnieri and phosphatidylserine, others don't deliver many nootropic benefits.
There is also the undeniable absence of any cholinergic in the OptiMind formula, which is a major flaw in any nootropic formula.
What Are The Benefits of OptiMind?
Alternascript promises a host of health benefits when using its product.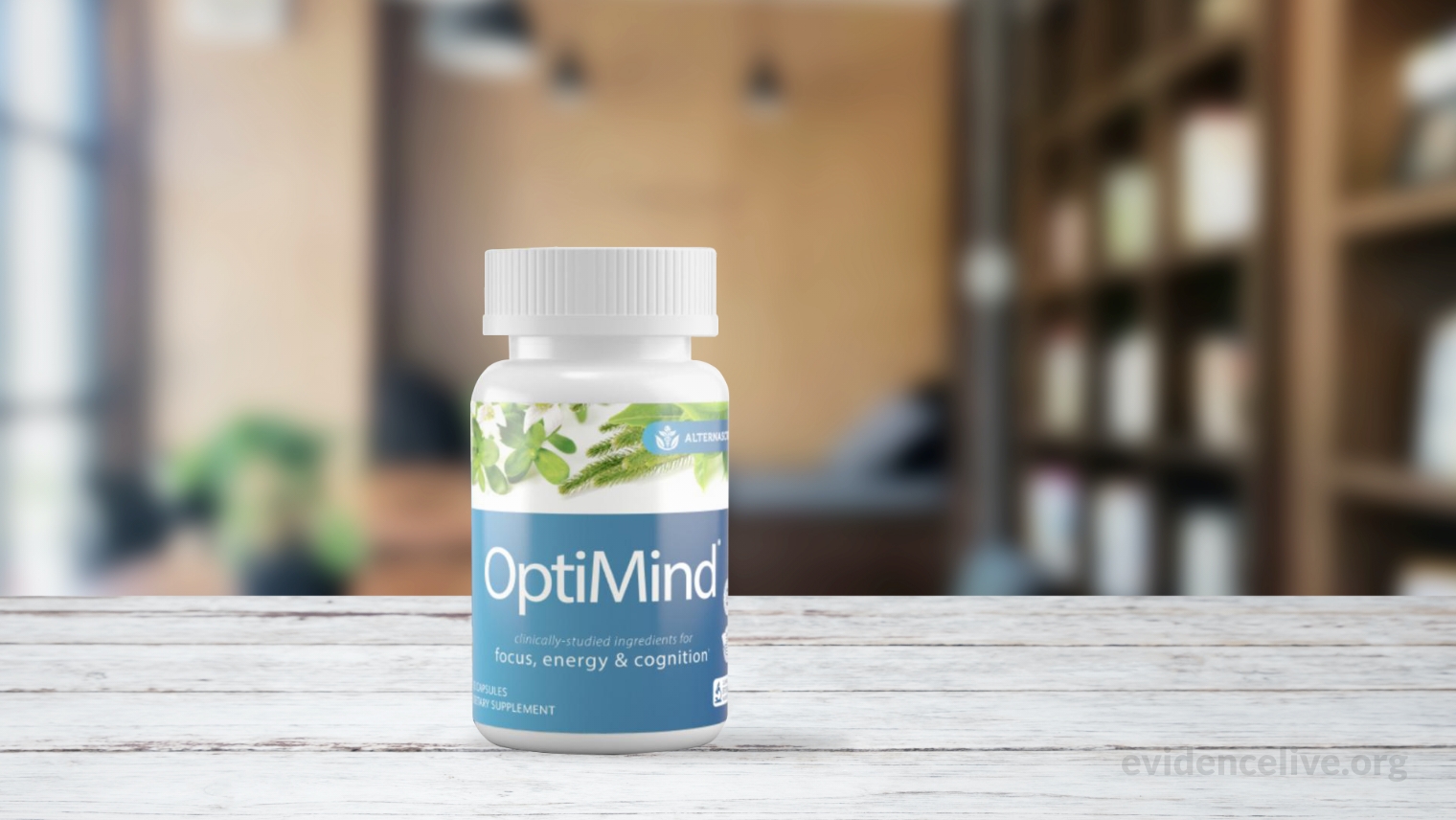 Using some good, potent ingredients, OptiMind assures to deliver the following benefits:
Improves Attention and Memory Retention
As is with all quality nootropics, OptiMind supplementation aims to improve attention and memory.
Its ingredient profile showcases brain boosters like bacopa, phosphatidylserine, and huperzine A, potentially providing immense brainpower.
But this combination throws us off a bit as bacopa and phosphatidylserine need to be consumed long term to provide effects, whereas huperzine works best when cycled.
Increases Energy Levels
Another standard expectation from nootropics, OptiMind, promises to improve and enhance energy.
The caffeine and taurine content in OptiMind can potentially account for this activity. However, since the company does not provide information about the dose of either, we are at a loss here.
Too much or too little of either ingredient can result in side effects or no effects at all.
Enhances Cognitive Function
Bacopa, phosphatidylserine, and huperzine A are once again key players here.
Supplements containing these ingredients are usually helpful for improving focus and cognition. But without knowing how much we are getting, it's hard to predict their results.
OptiMind Ingredients
OptiMind advertises using at least 12 ingredients, including vitamins and minerals, all claiming to heighten focus, improve energy levels, and enhance memory.
The company claims batch testing these ingredients for purity before they use them in their formula.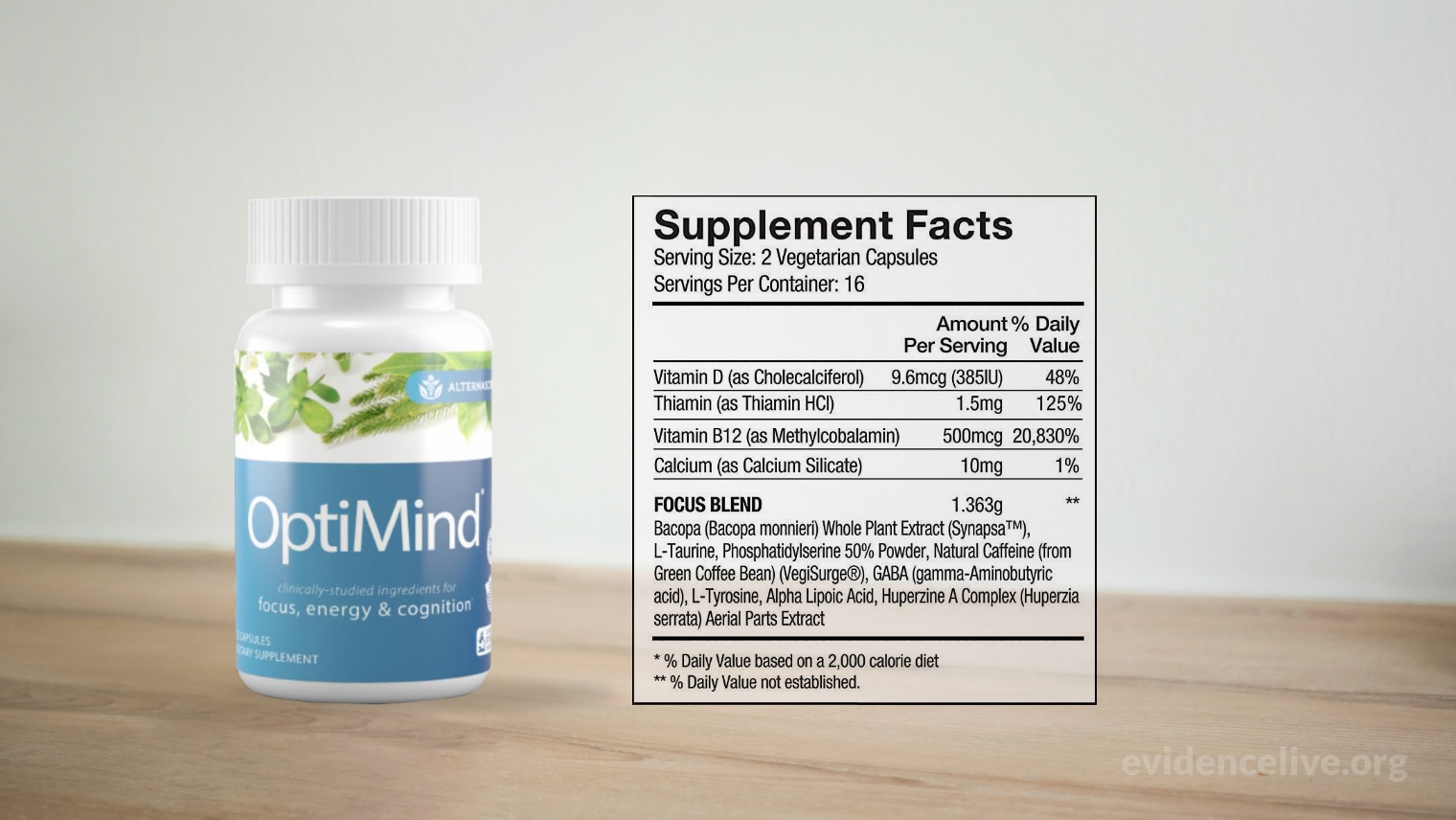 Vitamin D
The OptiMind ingredients list starts with vitamin D, which is involved in overall brain health in a few different ways.
Vitamin D works on brain enzymes involved in neurotransmitter synthesis and nerve growth. It also helps mineral absorption in the body, and optimal levels can help prevent low energy and mood swings (1).
OptiMind delivers 9.6 mcg of vitamin D per serving.
Thiamin (Thiamin HCI)
Thiamin or thiamine, also known as vitamin B1, is an essential nutrient required by all tissues. It is associated with preventing complications in the nervous system, brain, heart, and muscles.
Studies show that thiamine supplementation can help boost attention, energy, and motivation. It may also reduce brain fog and increase mental clarity with less anxiety.
You get 1.5 mg of thiamin per serving of OptiMind.
Vitamin B12 (Methylcobalamin)
Another vitamin listed among OptiMind ingredients, vitamin B12, helps resolve issues related to age-related cognitive decline. Primary among these are mood and brainpower.
A vitamin B12 deficiency can result in irreversible neurological symptoms, and estimates show that approximately 15% of adults are deficient in this vitamin (2).
The OptiMind label indicates delivering 500 mcg of B12 per serving.
Calcium (Calcium Silicate)
Calcium plays a part in brain health by regulating neurotransmitter synthesis and release.
It also controls neuronal excitability and is a crucial player in how the brain communicates with the rest of the body.
OptiMind yields 10 mg of calcium silicate per serving.
Focus Blend
Focus Blend is the proprietary mixture of the OptiMind formula. This means that the following ingredients in OptiMind do not specify how much of each is used.
Instead, manufacturers decided to put them together in a stack, keeping users in the dark about the quantity they will get per serving.
The only thing they reveal is that the blend stack contains 1.363 grams of nootropic ingredients in serving doses.
Bacopa Monnireri Whole Plant Extract (Synapsa)
The OptiMind Focus Blend starts with bacopa monnieri, which is a promising nootropic. It is well known for improving memory, learning, and retention, mainly because of its bacosides.
One meta-analysis indicates bacopa monnieri may slow down the rate of forgetting newly acquired knowledge (3).
Bacopa extract may also accelerate mental processing, optimize cognitive performance under stress, and promote relaxation (4).
That being said, while bacopa monnieri is an assuring nootropic to start things off with, it is still a slow burner and takes its time before yielding any noticeable effects.
L-taurine
The second ingredient on the OptiMind proprietary blend list is l-taurine. L-taurine is an amino acid known for boosting sports performance, and its nootropic properties are much less recognized.
It can help promote healthy circulation and support muscle formation. These functions are favorable for cardiovascular health but don't do much for mental acuity.
Therefore, we are not entirely sure why taurine was added to this formula.
Phosphatidylserine 50% Powder (SunPS)
Phosphatidylserine is another good brain booster that can help sharpen thinking, slow cognitive decline, and even promote a positive outlook (5).
Research shows that it gets its nootropic potential by crossing the blood-brain barrier where, once in the brain, it can positively impact the growth of brain cells and improve various brain functions.
Studies show this nootropic to assist with improving cognitive function in the elderly with brain degeneration. At the same time, it may also be helpful for mood enhancement, lowering anxiety, and improving mental clarity and socialization.
But what makes phosphatidylserine particularly beneficial is that it's the only FDA-approved ingredient qualified to reduce the risk of cognitive decline.
Natural Caffeine From Green Coffee Beans (VegiSurge)
Natural caffeine could easily have been the star ingredient of this product, but it seems otherwise.
Caffeine is a powerful stimulant that yields significant effects even in small amounts. However, OptiMind fails to mention the amount included in their formula.
Typically, caffeine doses of around 60 mg are enough to produce side effects in most people. Anything above the 120 mg mark is sure to cause serious side effects and is not risk-free.
For all we know, OptiMind could have as big or as little a dose in each serving, but there is no way to verify this.
Tolerance is always an issue with caffeine, and because of the suspected hefty doses of the stimulant included in OptiMind, its ability to affect the mind positively can be questioned.
GABA (Gamma Aminobutyric Acid)
GABA is the brain's primary inhibitory neurotransmitter that induces relaxation, reduces stress, calms nerves, and promotes sleep (6).
By crossing the blood-brain barrier, GABA helps put the brakes on the brain when in overdrive and calms the body and mind.
However, although it has an excellent inhibitory capacity, GABA does interact easily with certain medications, so caution is warranted.
L-Tyrosine
L-tyrosine is a brain booster that enhances working memory and optimizes mental performance under mental or physical stress.
It is among nootropic amino acids that boost neurotransmitter production, boost improved communication, and even regulate mood (7).
It is common to use l-tyrosine to manage stress and stay focused.
Alpha Lipoic Acid (ALA)
Alpha Lipoic Acid (ALA) is a naturally occurring compound with some antioxidant potential. It also affects neurotransmitters that impact brain function.
As a nootropic, alpha-lipoic acid can raise acetylcholine levels while lowering acetylcholinesterase.
This mechanism can improve alertness and learning, enhance focus, and shield the brain from cognitive decline associated with acetylcholine deficiency.
Huperzine A Complex (Huperzia serrata) Ariel Parts Extract
Huperzine A shares some similarities with ALA by boosting acetylcholine production in the brain. Likewise, it also inhibits acetylcholinesterase which results in more brainpower in general.
As a result, Huperzine A may enhance brain performance by improving learning and memory while also preventing age-related memory impairment, such as in Alzheimer's disease (8).
While Huperzine A is an effective ingredient to add into a nootropic, it is not suitable for long-term use. On the other hand, bacopa and phosphatidylserine only present effects after being used long-term.
As such, the safe cycle length of one counters the effectiveness of the other two. This makes the combination of these ingredients somewhat of a grey area, in our opinion.
Other Ingredients
The original OptiMind formula featured other ingredients in the proprietary blend, including vinpocetine and sulbutiamine.
Among these, vinpocetine helps boost cerebral blood flow and lower inflammation.
In a nootropic capacity, Sulbutiamine may be beneficial for increasing focus, energy and preventing memory loss.
The formula also mentioned vitamin D3, which naturally increases an individual's level of energy.
But these were dropped in the revised product and replaced with hydroxypropyl methylcellulose, magnesium stearate, and silicon dioxide.
However, their inclusion in the OptiMind formula becomes pointless as there is no way to know how much each ingredient users get in a serving size.
How To Take OptiMind Supplement?
The creators at Alternascript promise users to help improve focus and concentration, clear brain fog, boost energy by taking their vegetarian capsule and let OptiMind do its work.
Dosage
The creators at OptiMind recommend taking 1-2 capsules of OptiMind per serving.
We already know that OptiMind contains a massive dose of caffeine. This is sure to deliver some stimulant effects.
Based on this, it is recommended not to take OptiMind any later than 2 PM and avoid taking it with coffee.
Also, depending on how people react to caffeine intake, it may be hard to establish an optimal OptiMind dose.
OptiMind Reviews: What Do Users Say?
Our experience confirms what most users are saying. Using this supplement report minimal to no benefits.
Many consumers have reported no difference in productivity, fatigue levels, or even brain function. Some people in the reviews even increased the number of capsules to see effects but felt jittery.
Customers that do experience any improvement review the surge to be short-lived while other people report experiencing jitters. This could easily result from the unknown dose of caffeine content in this supplement.
People also review it to cause restlessness, overstimulation, and insomnia.
Dissatisfied customer reviews even call it a scam. However, while we would not go as far as calling this supplement a scam, we feel that you could quickly get better alternatives than OptiMind in the nootropics market.
Does OptiMind Have Side Effects?
Our OptiMind review establishes that it contains many ingredients that, in theory, work great as standalone nootropics or better when stacked together.
However, once again, the problem lies with the lack of dosing information.
We do not know the quantity of the nootropics used and if they even meet the minimum dosage requirement.
Since all this crucial information is hidden, it becomes tough to determine the effectiveness of OptiMind ingredients and whether they affect cognitive performance.
A nootropic is only considered effective if it comes with the correct dosage of working ingredients. And in this case, OptiMind fails to pass this elementary test.
Is It Safe To Use?
The lack of information also makes it hard to verify whether the ingredients used in whatever dosages are safe to use or not.
OptiMind side effects are also hard to predict without knowing how much of what went into the formula. If anything, it also becomes hard to say if the supplement is side-effect-free.
This applies in particular to caffeine. Not knowing the caffeine intake per serving makes OptiMind potentially a risky brain supplement.
In our opinion, it is better to practice caution with this supplement until more information becomes available.
OptiMind is not an FDA-approved product. Like many other similar supplements, it is not regulated by the Food and Drug Authority.
Where To Buy OptiMind?
You can consider a few different options when you want to buy OptiMind. For instance, it is available from the official website as well as from retailers.
Price
When you buy OptiMind from the official website, you can get a single 32-capsule bottle for $29.95.
At 2 pills per dose, this comes to a 16 day supply with one bottle, which is a pricy alternative compared to the competition's value.
The website will also let you order multiple bottles but without any discount.
The company also has a 14-day free trial for 10 capsules with free shipping for individuals wishing to try the product first.
You can also purchase OptiMind bottles at other retailers or online.
Conclusion
Despite some stellar ingredients in OptiMind, this supplement leaves a lot to be desired. Our verdict on OptiMind is that there are other nootropic stacks out there with better quality, value for money, clearer labels, and less ambiguity.
Other supplements give you all the correct information that you need to make an informed decision.
If you are serious about improving your brain health and performance, look at other alternative like Noocube for a superior option.
This supplement uses science-backed ingredients with doses labeled clearly and offers complete transparency to its users.
Best choice
OptiMind has some drawbacks that can make users think twice. If you're one of these people, then NooCube is the option to turn to.
Pros

Contains some beneficial ingredients backed by science, like Huperzine A and Bacopa Monnieri
Offers a 14-day free trial

Cons

Does not provide amounts for every ingredient because they are part of the proprietary Focus Blend
Difficult to stack due to lack of specific dosages and many components
Not suitable for people sensitive to caffeine and can cause side effects
Many users find that it offers little results, if any effect at all