If you have been shopping around for natural nootropics, then you have likely come across NeuroIGNITE.
While reasonably priced compared to some of their competitors, it is essential to consider whether it is actually effective for mental and physical performance.
This NeuroIGNITE review will help you determine if the composition of the formula supports the claims of improved focus, clarity, and memory.
Before we get into the ingredients and benefits, let's examine what this product is and what you can use it for.
Best deal
NeuroIGNITE is not the best choice as far as brain-boosting supplements go, and there is a better quality alternative.
| | |
| --- | --- |
| Ingredients | |
| Effectiveness | |
| Safety | |
| Price | |
Contents
What is NeuroIGNITE?
NeuroIGNITE is a trendy brain supplement originally produced by Organic Stride. However, it is now offered by Havasu Nutrition with an updated formula.
The updated formula is designed for focus, memory, and clarity, but Havasu Nutrition claims some ingredients are suitable for long-term brain optimization, mood support, and energy.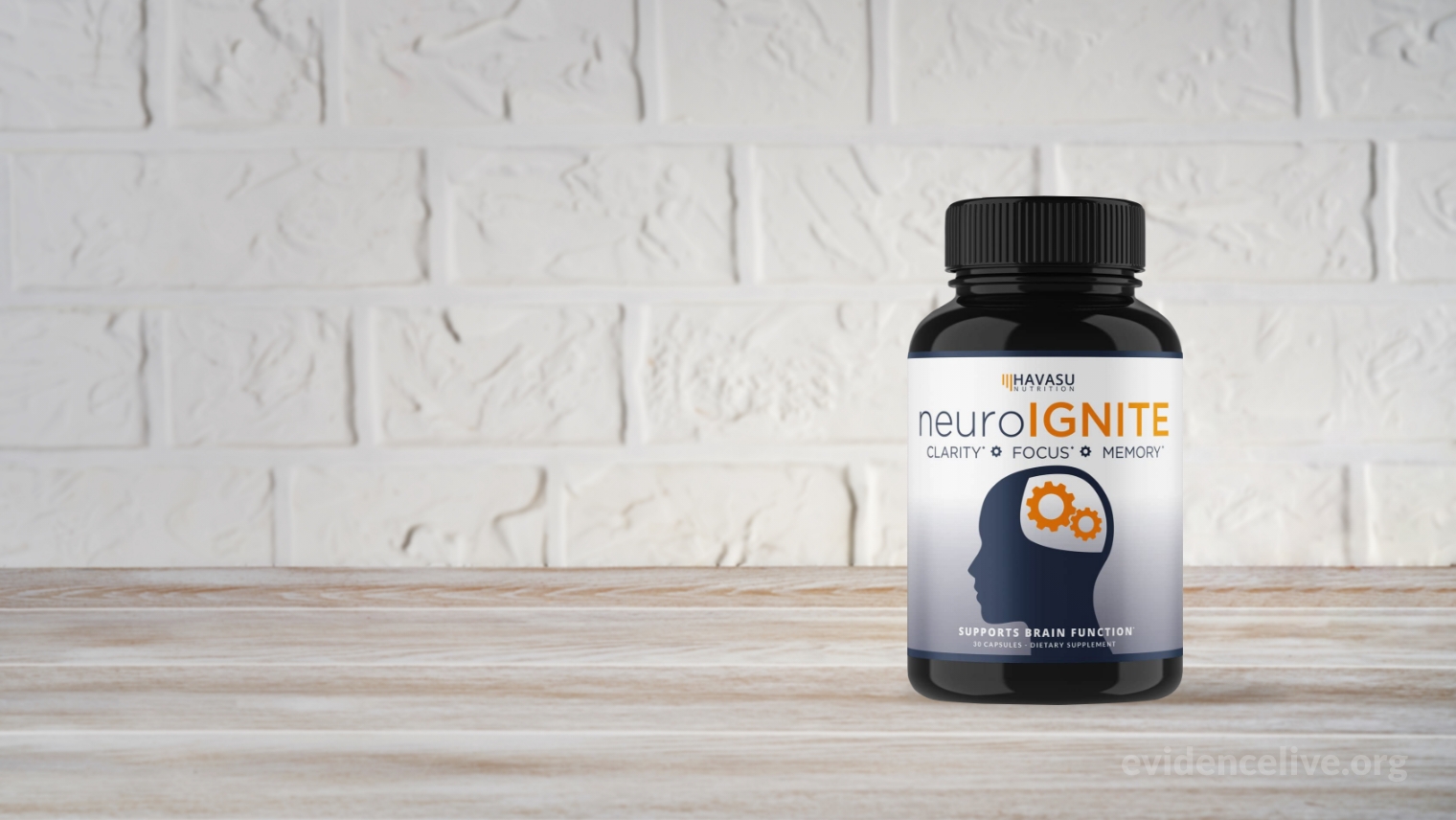 They also promise that users will not experience a crash or jitters associated with energy supplements and caffeine.
Are these fantastic claims supported by the ingredients found in their product? This NeuroIGNITE review aims to answer that question.
At A Glance

| | |
| --- | --- |
| Product | NeuroIGNITE |
| Manufacturer | Havasu Nutrition |
| Type | Nootropic |
| Form | Capsules |
| Content | 30 capsules |
| Dosage | 1 capsule daily |
| Price | $22.19 |
| Price per serving | $0.73 |
How Does NeuroIGNITE Work?
NeuroIGNITE offers a combination of different ingredients that offer nutrients and nootropic features that may be good for the body and mind and overall health.
However, it is our opinion that this supplement does not work well when compared to other products.
There are many nootropics on the market, and this one offers a strange combination of ingredients.
While some of them are beneficial, many of the components are included at amounts that are too low to provide the potential effects.
This also increases the likelihood of developing side effects because you may be tempted to take more to achieve the results you are looking for.
What Are The Benefits of NeuroIGNITE?
The natural ingredients in NeuroIGNITE by Havasu Nutrition offer a variety of brain and nootropic benefits.
The compounds range in effectiveness, but the combination of NeuroIGNITE ingredients can provide an intriguing result.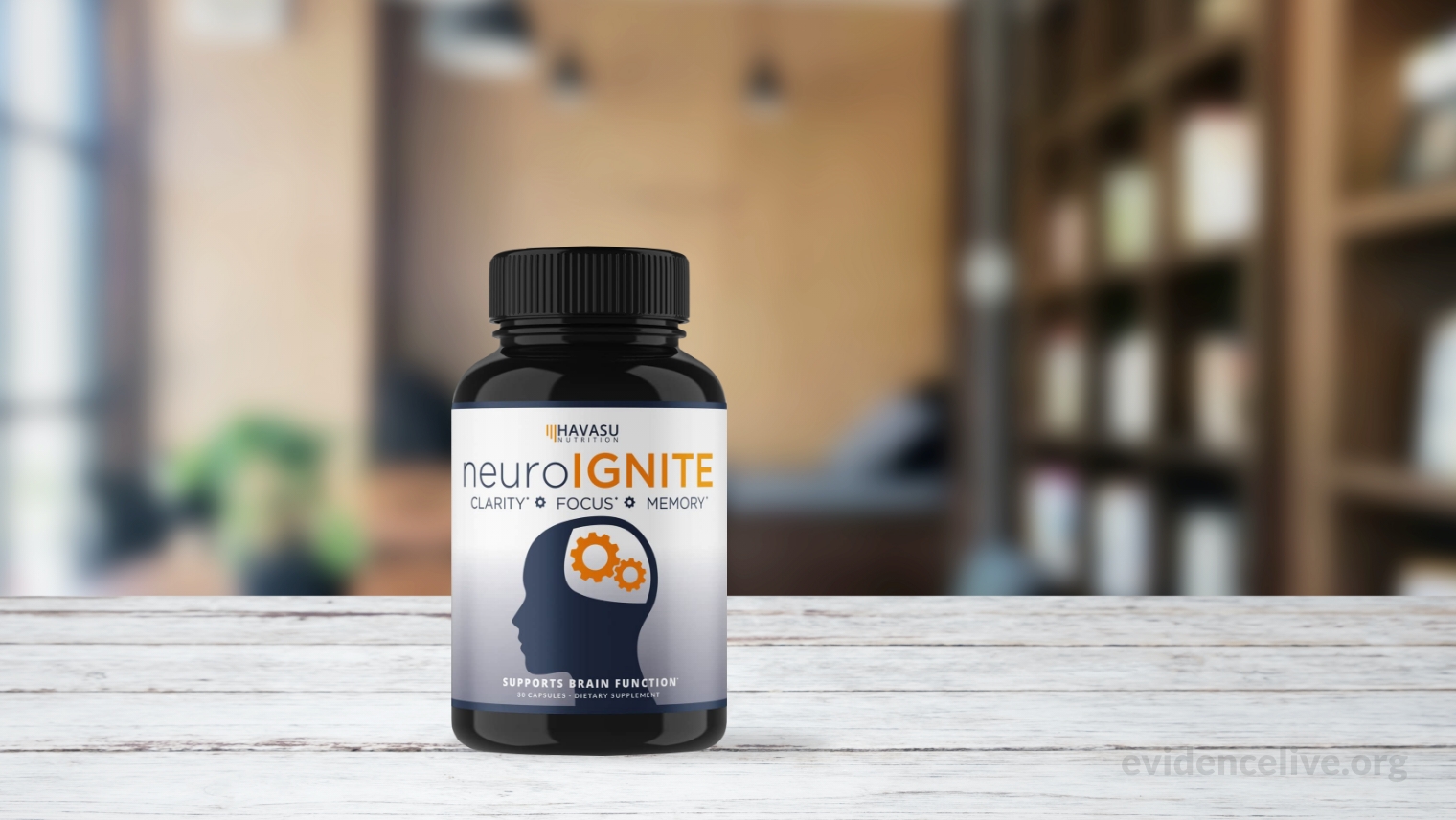 Enhanced Brain Function
Havasu Nutrition claims that their all-natural product is a high-strength brain supplement. The formula offers a variety of different compounds that may benefit the various functions of the brain.
DMAE may help with the functioning of the mind that is related to memory and learning. Additionally, Ginkgo biloba is one of the most popular adaptogens that can be used to improve mental health and cognition.
Finally, phosphatidylserine may contribute to the brain enhancement effects of NeuroIGNITE.
These ingredients combined create an effect that helps with overall brain health and contribute to many other results of this nootropic supplement. Still, the evidence of their ability to work for brain function is limited.
Increased Natural Energy
The NeuroIGNITE ingredients may also offer energy that can help you fight against the dreaded brain fog. While the effect is not stimulating like caffeine, it still may naturally increase your energy levels.
The chief ingredient responsible for these results is acetyl-L-carnitine.
However, even though the formula claims to increase your energy level, the effectiveness would be subtle if noticeable because of the small amounts.
While you may not want to take NeuroIGNITE primarily for this quality, it may be an attractive way to boost your existing stack.
Focus and Concentration
This is probably the most common benefit for people who decide to purchase NeuroIGNITE supplement products.
Bacopa monnieri is perhaps the primary ingredient that contributes to better focus and concentration, but Huperzine A may also help.
NeuroIGNITE may improve the clarity of memories and provide a lasting focus and alertness. Unlike some nootropics, all the ingredients come from nature. The benefit of a focus enhancer for the mind is related to the production of brain cells and an increase in brain chemicals.
While the ingredient list is not made explicitly for focus and attention, it may work for lasting brainpower. However, there may also be more beneficial nootropic options that offer similar results.
Mood Enhancement
Havasu Nutrition claims that NeuroIGNITE can provide a boost in mood. These effects probably come from the stress-fighting properties of Ginkgo biloba and St. John's Wort.
These ingredients may even be enough to prevent or reduce symptoms associated with depression.
While the ingredient make-up of NeuroIGNITE may work as a mild relaxant to assist with nervousness, the potency is a cause for concern because some ingredients would likely cause side effects when enough is taken to offer any value.
The facts for NeuroIGNITE as a potential alternative option to drugs and pills for depression lacks scientific backing because the amount that it would take to work may cause adverse reactions.
Improved Cognitive Performance
NeuroIGNITE is on the market by the brand and manufacturer as a nootropic option for the mind and cognitive ability.
A couple of the ingredients are mental enhancers, and some have found that they can support improved cognition without the jitters caused by caffeine.
This product may improve cognition and clarity, and the supplementation of Bacopa monnieri as an ingredient can certainly have this type of potential for the mind.
NeuroIGNITE may support nootropic effects at an affordable price for this type of use, but some alternatives may be a better choice for the money.
NeuroIGNITE Ingredients
NeuroIGNITE contains seven different ingredients for improved vitality, memory, cognitive function, and mood. Every component of the product is natural and offers various benefits.
While they are not the most progressive ingredients as far as uniqueness goes, it is still good to look at each of the ingredients in NeuroIGNITE and how it is related to nootropic effects.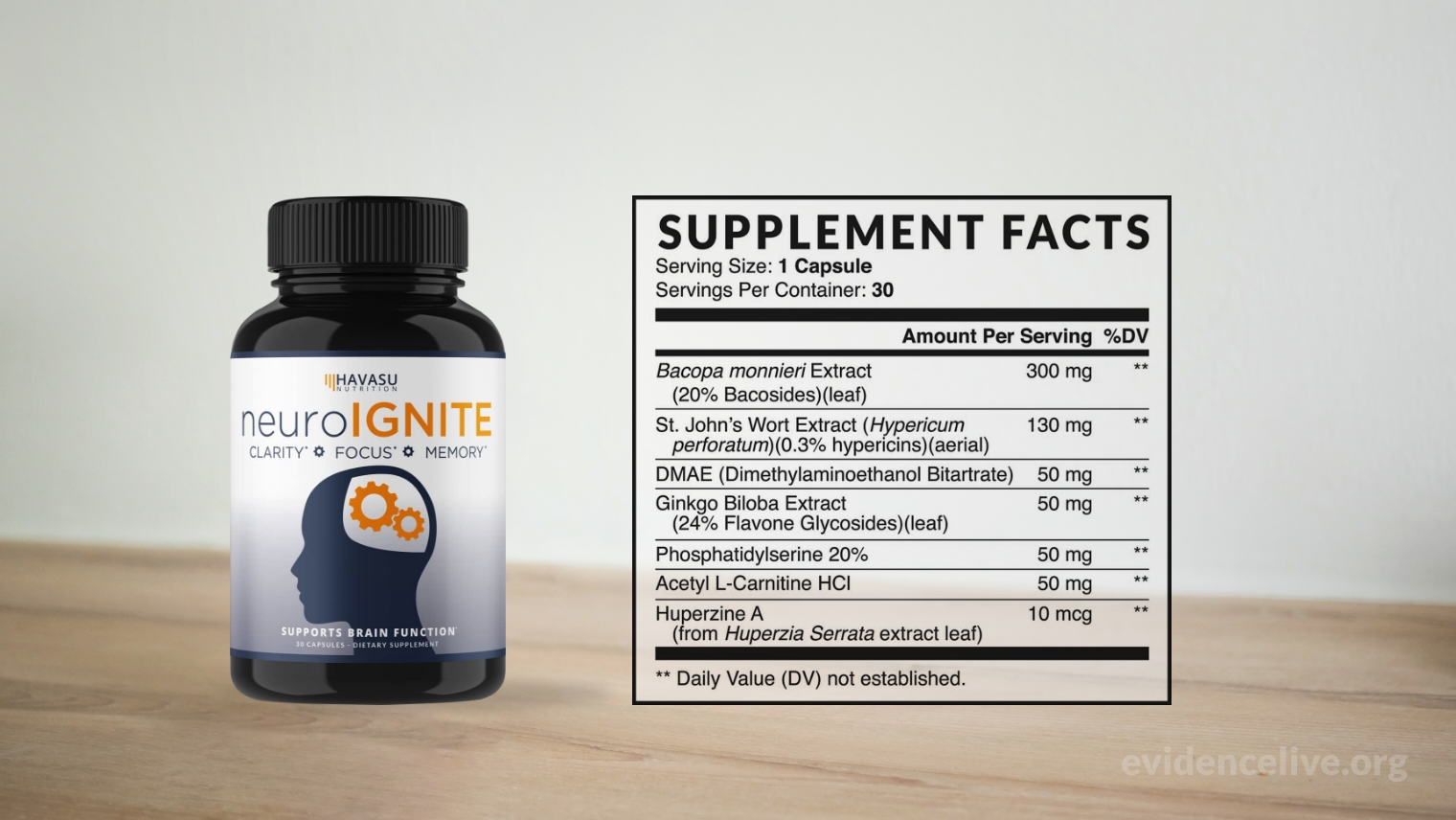 Bacopa Monnieri
Bacopa monnieri is likely the ingredient that contributes the most to the popularity of NeuroIGNITE and is one of the more common nootropics.
It is an ancient herb that can boost brain functions while simultaneously reducing anxiety and tension. It is primarily used in NeuroIGNITE to improve memory function (1).
Research has found that Bacopa monnierican increase the length and branching of dendrites in the brain, which improves cognitive power and helps with learning and memory.
This is especially true of those who already suffer from mild memory impairment. It may also help with other features of cognition like processing speed and concentration and may help with productivity.
NeuroIGNITE provides 300 mg of Bacopa monnieri per single capsule serving.
John's Wort extract
John's Wort is a flower extract often used as a natural anti-depressant with substantial research to show that it can be effective for depression and anxiety (2).
Within NeuroIGNITE, St. John's Wort is one of the primary ingredients responsible for claiming that the product may be good for boosting and regulating mood. Still, this product may not contain enough of it to be effective.
St. John's Wort increases neurotransmitters within the brain, including noradrenaline, serotonin, and dopamine. These neurotransmitters can make you feel good and help to boost mood and manage emotions.
NeuroIGNITE pill offers 130 mg of St. John's Wort per serving.
DMAE
Dimethylaminoethanol pyroglutamate, or DMAE, is naturally produced by the brain, and it may help with nerve and cognitive disorders.
Research suggests that DMAE may be beneficial for those who have Parkinson's, Alzheimer's, and other forms of dementia (3).
How DMAE works is still relatively unknown, and the research is limited on cognitive enhancement.
Some claim that DMAE may help improve memory and learning, but it can also cause several side effects, and the benefits remain unproven.
You can find 50 mg of DMAE in NeuroIGNITE.
Ginkgo Biloba
Ginkgo biloba helps to manage stress levels and regulate mood while also offering nootropic and cognitive effects (4).
The anti-inflammatory property of Ginkgo biloba may be responsible for the anxiolytic features that can help users build resilience to stress when taken at doses between 120 and 240 mg, which NeuroIGNITE does not provide.
Ginkgo can also improve cognitive function and mental performance on various tasks. It is one of the most popular natural brain supplements on the market because of its positive effect on blood flow and oxygenation.
It can help provide users with a sense of energetic calmness that may help to increase productivity and reduce mental fatigue.
One serving of NeuroIGNITE has 50 mg of Ginkgo biloba.
Phosphatidylserine
Phosphatidylserine is found in our brain's cell membranes and is crucial for the proper functioning processes of neurons, synapses, and other components of the human brain.
Phosphatidylserine serves several purposes and may be useful for mental health issues, including depression and anxiety. However, NeuroIGNITE contains only a tiny amount that will not do much, if anything at all.
There is also research that suggests that phosphatidylserine may help promote improved memory and cognitive performance.
It is often taken as a natural remedy for age-related cognitive decline and memory loss. The study results showed that it contributed to a substantial improvement in brain health related to memory (5).
Havasu NeuroIGNITE blend contains 50 mg of Phosphatidylserine.
Acetyl L-Carnitine HCL
This amino acid is a form of carnitine that can be consumed orally. It can help to increase energy levels.
People often take acetyl-L-carnitine before they work out to increase the efficiency of their working energy metabolism. Furthermore, research has linked low levels of acetyl-L-carnitine to depression (6).
However, it is important to note that this type of liveliness does not necessarily mean that it will boost the brain.
Acetyl-L-carnitine is not a typical nootropic, but some people still believe it may improve cognitive performance. There is not very much research on its effectiveness, and NeuroIGNITE may not provide enough to notice a difference.
Each dose of Havasu NeuroIGNITE contains 50 mg of acetyl-L-carnitine.
Huperzine A
Huperzine A is the supplement form of the extract of the plant known as Huperzia Serrata. It can prevent the breakdown of acetylcholine levels, contributing to mental performance and brain function (7).
The evidence for the efficacy of Huperzine A is limited. Still, it may help to improve memory and cognitive function in people who have Alzheimer's or other forms of mental decline.
This means that Huperzine A may offer nootropic health benefits and even improve attention, concentration, and memory.
Our NeuroIGNITE review confirms that it provides 10 mcg of Huperzine A in every portion.
How To Take NeuroIGNITE Supplement?
NeuroIGNITE's composition comes in a gelatin capsule which makes it easy to use. Each of the capsules contains the various dosages for each of the seven ingredients found in each bottle.
Dosage
The recommended dose is designed to take 1 capsule each day.
This makes it easy to improve your health and well-being with NeuroIGNITE even when compared to other products intended for consumption twice or three times per day.
NeuroIGNITE Reviews: What Do Users Say?
Several reviews agree with the opinion formed in our experience and come to a similar conclusion to our NeuroIGNITE review.
That is to say that many users have also stated in NeuroIGNITE reviews that the dosages are awkward and do not seem to support improved brain health or nootropic effects, even though the ingredients included could be beneficial.
At least one review stated that they believed this product shows signs of a scam because of the questionable ingredient choices.
While we would disagree with this statement, we find that the competition offers alternatives with more beneficial ingredients.
Does NeuroIGNITE Have Side Effects?
While the majority of the components of NeuroIGNITE are considered safe, some of them may have side effects. Many of the ingredients' dosages are not sufficient to cause severe side effects, but it is still essential to keep these reactions in mind.
St. John's Wort has been known to cause nausea, fatigue, restlessness, and diarrhea in some people.
In addition, DMAE may cause headaches, hyperactivity, cramps, and loss of motivation or focus. While many of the side effects are rare, it is still good to approach this brain supplement with them in mind.
It is important to note that all Havasu Nutrition supplements are produced under Good Manufacturing Practices (GMP) in FDA-approved facilities. However, like other similar products, it is not approved by the FDA.
Where To Buy NeuroIGNITE?
The most accessible place to purchase NeuroIGNITE for an affordable price tag is on the official Havasu Nutrition website.
Price
They offer a bottle of 30 capsules for $22.19, and when you buy directly from them, you know for a fact that the supplements are the real deal and come in original packaging.
Havasu Nutrition's products, including NeuroIGNITE, are also available at various retailers at different pricing.
Conclusion
While NeuroIGNITE is available for a reasonable price, we have found throughout our review that the reality is not very effective. The primary reason for this is that most ingredients are found in low extract amounts that do not reach beneficial levels.
Additionally, when some amounts do reach levels that support nootropic effects, other components will be more prone to side effects. For this reason, the opinion of our NeuroIGNITE review is that we recommend you spend your money elsewhere on a more effective supplement.
There is a much better alternative to NeuroIGNITE, giving you a safer and more effective cognition-boosting experience. We recommend Noocube instead, as this nootropic product uses ingredients at a dosage backed by science and gets you the brain boost you are looking for.
Best choice
Instead of settling for NeuroIgnite, an average nootropic, consider the superior nootropic supplement, Noocube.
Pros

Reasonably priced with a transparent label of all dosages
Contains some great ingredients like Bacopa Monnieri and Gingko Biloba

Cons

The balance of dosages for the ingredients is questionable, and many are too low to be effective for brain health and mental performance
Can cause side effects like nausea, fatigue, restlessness, diarrhea, and headaches
Benefits are scattered and do not seem to enhance brain functions in the right way